Red Salsa — Molcajete Sauce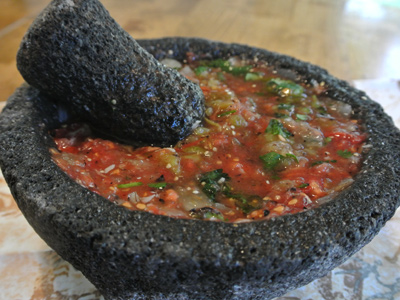 Serving size: 3 Cups
Ingredients
1/2 Sweet Maui Onion, finely chopped
1-1/2 Tabelspoons fresh lime juice
6 Roma Tomatoes (best because there's less tomato juice)
2 jalapeno chiles, stemmed, seeded if less heat is desired, and halved lengthwise
1 garlic clove
1 cup chopped fresh cilantro
Salt to Taste HAWAIIAN VOLCANO SEA SALT (KIAWE OR GUAVA SMOKED)
Preparation Instructions
Soak the onion in lime juice for 15 min.
'Roast' the outside of tomatoes, chilis, and garlic in ungreased skillet on high heat, turning as needed until charred on all sides.
Put roasted ingredients into blender, pulse – but keep the mixture chunky.
Place in bowl and add the onion, cilentro, and lime juice.
Salt to taste – the smoked salt will also add a roastiness.
Serve with tostadas or homemade corn tortilla chips.  (Fry corn tortillas, cut into 8 wedges each, in canola oil until almost all bubbling stops and chips are golden.  Place on paper towels to drain and salt with Hawaiian Volcano Kiawe smoked salt immediately.)
Refrigerate if there is leftover salsa.  Will keep 3-4 days in fridge.