Enhance the Flavor of Food with Our Delicious Smoked Sea Salts from Hawaii's Big Island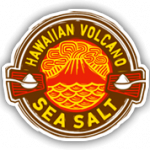 Hawaiian Volcano Sea Salt begins its journey to your kitchen when we bring seawater up from the depths of the Pacific Ocean to be sun-dried in the warm Kailua-Kona sun. This pure and natural salt is then smoked at the base of the Mauna Kea volcano on Hawaii's Hamakua Coast in small batches — using only the finest Hawaiian woods like Guava and Kiawe.
Our smoked salts are a wonderful complement to most any dish you prepare, and you'll be happy to know that our Big Island sea salt contains 48% less sodium than regular table salt. Enjoy!