Huevos Rancheros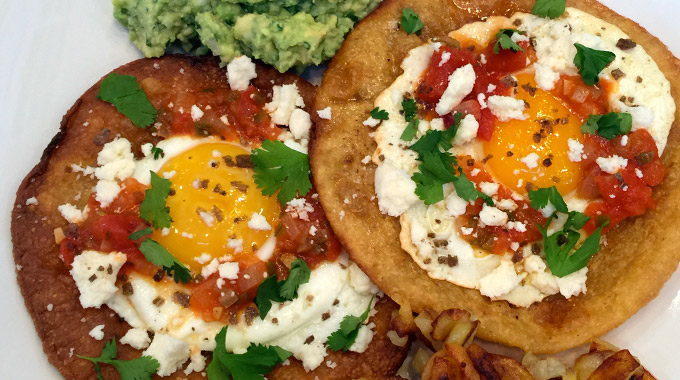 Ingredients
For Each Serving:
2 corn tortillas
Canola oil for frying
2 large eggs
Butter for frying
Cotija cheese (may substitute Farmer's Cheese)
Ranchero Sauce
Cilantro leaves
Hawaiian Volcano Kiawe Smoked Sea Salt
Preparation Instructions
Fry tortillas in oil over moderate heat till bubbling almost stops and tortillas are crisp through.  If getting too brown before bubbling stops, turn heat down.
Fry eggs "sunny side up" or to desired doneness in apx. 1 Tbsp butter in a non-stick skillet.
Place one egg atop each tortilla. Sprinkle with crumbled Cotija cheese. Spoon on Ranchero Sauce and cilantro leaves. Sprinkle with Kiawe smoked salt.
Serve with guacamole, fresh tortilla chips, and hashbrown potatoes or canned refried beans.
Ingredients for Ranchero Sauce
1 white onion, in 1/2" dice
2 Tbsp canola oil
1 tsp natural Hawaiian Volcano Sea Salt
2 jalapeno chilies, minced (Remove seeds and ribs if less heat is desired)
1-14 oz can diced tomatoes
1 Tbsp fresh lime juice
Preparation Instructions for Ranchero Sauce
Sauté onion in oil over medium heat with HVSS until softened and translucent but not browned, stirring occasionally.
Add jalapeno and saute 2 minutes longer.
Add tomatoes and lime juice.
Simmer over fairly low heat apx. 15 minutes to thicken, but not dry out.  If it gets too dry, add a little water.
Taste for salt, add as needed.
Leftover sauce may stored in an airtight container in fridge and reused as needed for one week.
Makes a good chip dip sprinkled with fresh, chopped cilantro.  May also be used with fresh, minced cilantro in mashed avocado to make guacamole.