Butternut Squash Soup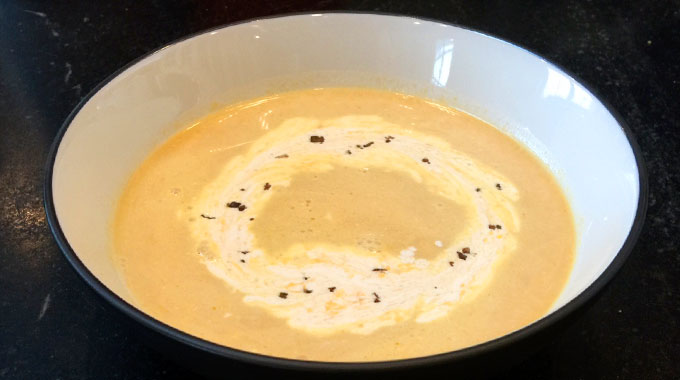 Ingredients
2 Tbsp butter
1 yellow onion, diced
1" piece of fresh ginger, cut into 4 pieces
4 cloves of garlic
3 lbs butternut squash, peeled, seeds removed, and cut into 1" cubes
1 Tbsp natural Hawaiian Volcano Sea Salt
1 tsp white pepper
2 cups chicken stock or canned broth
2 cups water
1/2 cup fresh orange juice
1/2 cup sour cream, creme fresh, or Mexican crema for garnish
2 tsp (apx.) Hawaiian Volcano Sea Salt guava smoked salt for garnish
Preparation Instructions
Sauté onion in butter over medium heat until translucent but not browned.  Add ginger and garlic and saute an additional minute or two.
Add squash, salt, and pepper and saute 6 – 8 minutes.
Add broth and water. Bring to a boil, turn down heat and simmer until tender, apx. 30 minutes, stirring occasionally to prevent sticking.  If soup gets too thick, add water.
Puree all with an immersion blender or in a food processor in batches.
Stir in orange juice.  Taste and adjust salt as needed.
To Serve
Ladle soup into bowls.
Add a circle of sour cream – the easiest way to do this is with a squeeze bottle or by putting the sour cream in a ziplock baggie and clipping a bit off one corner, squeezing a circle of the cream onto soup.
Sprinkle cream circle with the smoked salt.
Serves 8+