Salted Chocolate Pot-d-Crème Mousse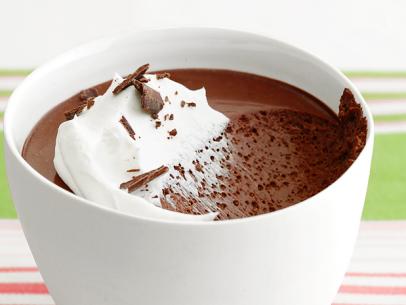 Such an easy recipe!  Takes 10 minutes to put together.  Tastes like it took you all day.
Ingredients
1 1/3 cup Milk
2 cups semi-sweet Chocolate Chips
2 Eggs
5 Tablespoons Sugar
1/4 teaspoon Hawaiian Volcano Sea Salt (Natural or Guava Smoked)
2 Tablespoons instant Espresso Powder (Substitute a coffee Liqueur if you like)
Preparation Instructions
Bring milk to low boil.
Blend all other ingredients in food processor.
Add boiling milk into processor through feed tube.
Blend 1 additional minute.
Pour mixture into six 1 cup ramekins or coffee cups.
Chill 30 minutes, garnish (see below), & serve.
Tips
Add pinch of Guava Smoked Salt (3 or 4 crystals) on top for color and taste.
Serve a scoop of Vanilla Ice cream on side and salt both!  DELICIOUS !!!