Bacon-Peanut Truffles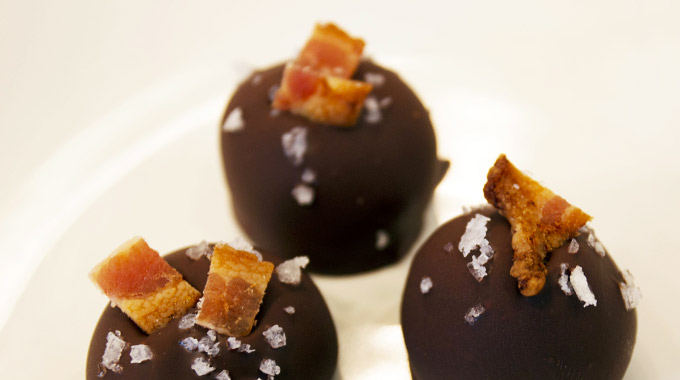 Ingredients
2 Tbsp dark brown sugar
1/2 tsp natural Hawaiian Volcano Sea Salt
3/4 cup honey-roasted peanuts
8 thick slices bacon, cooked crispy
1/3 cup creamy peanut butter
6 oz bittersweet chocolate
Preparation Instructions
Process first 3 plus 6 slices of bacon in food processor 20-30 seconds or until finely ground.  Stir together with peanut butter until smooth. Cover and chill 2 hours.
Shape rounded teaspoons of mixture into 3/4" balls.  Place on parchment paper-lined cookie sheet.  Chill one hour.
Chop remaining 2 slices of bacon with knife into 1/4" pieces.
Microwave chocolate 30 seconds at a time, 1 1/2 minutes total, stirring between each, or until melted and smooth.  Using a skewer, dip peanut butter balls into chocolate.  Let excess drip off.  Place on parchment lined cookie sheet.  Place one piece of bacon on the top of each and sprinkle with natural Hawaiian Volcano Sea Salt while still wet.  Chill 30 minutes before serving.
Can be made ahead and stored in an airtight container up to 2 weeks.